klystrack 1.5 Is Approaching Fast!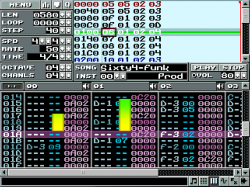 After months of busy developing (not), I have finally decided to release klystrack 1.5. In short: feature creep. iLKke also joined the dev team and I have to thank him for graphics, testing and general support (motivational kicks in the butt). I also got some very good feedback from quite a few people, even though not every request was possible to implement (thanks nonetheless).
What is new in 1.5:
Improved editing

Undo/redo for most actions
The "compact" pattern display mode can be configured to display exactly the needed pattern columns
There's now an edit mode similar to most classic trackers (you can jam in the pattern editor without changing pattern data)

New audio driver features

Wavetable for sampled drums etc.
Bitcrush effect has now optional sample rate downsampling
Extra parameter column for volume (like in FT2)
New commands such as setting filter resonance and restarting the instrument program from pattern data

Improved GUI

A lot of general laziness has been fixed, e.g. own menu items for opening a sample even in the pattern editor, keyboard control in all editors
Editors can be switched with buttons located bottom-right
The menu is less obscure with a new added menu button top-left
New default theme (no more eyesore)
Themes can now use PNG images instead of BMP
Program icon

Fun stuff

VU meters and a fake spectrum analyzer (think Protracker)
AHX/Protracker/C64 etc. retro themes

Experimental stuff

MIDI sync (not tested very well) and MIDI keyboard support (great for instrument editing)
Get it here. Don't forget the Facebook page, updates get posted there more frequently.